Movie Night: The Story of Stuff & The Lorax
Mar. 16, 2010
Event Information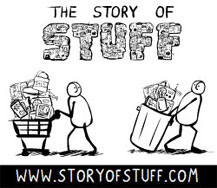 | | |
| --- | --- |
| When | Tuesday, March 16, 2010 @ 5:15pm |
| Where | University of Alberta, ETLC 2-009 (Colt Design Lab) |
| Poster | PDF |
Description
Join us for some cartoon watching (~20 minutes each) and a discussion regarding some of the issues brought up within the films
The Story of Stuff
"The Story of Stuff is an animated documentary about the life-cycle of material goods.
Activist Annie Leonard wrote and narrated the film. Tides Foundation, The Funders Workgroup for Sustainable Production and Consumption, Free Range Studios and other foundations funded the film.[2] Free Range Studios produced it. It was first launched online on December 4, 2007.
The 20-minute video presents a critical vision of the consumerist American society. It purports to expose "the connections between a huge number of environmental and social issues, and calls us together to create a more sustainable and just world." The video is divided into 7 chapters: Introduction, Extraction, Production, Distribution, Consumption, Disposal, and Another Way.
The video divides up the materials economy into a system composed of extraction, production, distribution, consumption, and disposal. To articulate the problems in the system, Leonard adds people, the government, and corporations.
Leonard's thesis, "you cannot run a linear system on a finite planet indefinitely" is supported throughout the video by statistical data. Although the video itself doesn't give attribution to her information, the producers provide an annotated script that includes footnotes with explanations and sources for some of her assertions:"
Source: http://en.wikipedia.org/wiki/The_Story_of_Stuff
The Lorax
"The Lorax is a children's book, written by Dr. Seuss and first published in 1971. It chronicles the plight of the environment and the Lorax (a mossy, bossy man-like creature resembling an Emperor Tamarin), who speaks for the trees against the greedy Once-ler. As in most of Dr. Seuss works, most of the creatures mentioned are original to the book.
The book is commonly recognized as a fable concerning industrialized society, using the literary element of personification to give life to industry as the Once-ler (whose face is never shown in any of the story's illustrations or in the television special) and to the environment as the Lorax. It has become a popular metaphor for those concerned about the environment."
Source:http://en.wikipedia.org/wiki/The_Lorax
Comments